Antonio's – Fun rights and lefts that break over a long stretch of reef. Onshore in the prevailing afternoon trade winds, so get there early, but plenty of room. Not known as a really hollow wave, Antonio's breaks best on a Northwest or northeast swell and winds from the south, which produces very fun, workable rights that peel down the beach.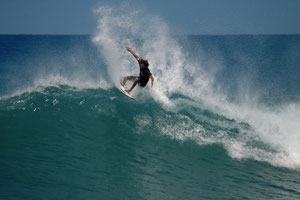 Parking Lots – For all surfing levels. From the 413, turn down near the Speedway gas station, go to the bottom and first parking lot on the right near Casa Islena. Fun rights and lefts between Sandy's and Antonio's. Paddle out in front of the parking lot. Bottom is sand and rock, can get blown out by the afternoon.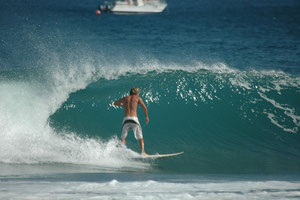 Sandy Beach – All surfing levels. In front of Tamboo Tavern, just a few steps south from Parking Lots. Sandy Beach needs a nice Northwest or Northeast swell and a light south wind to hit its true potential. When the conditions come together, long, workable lefts peel down the reef.